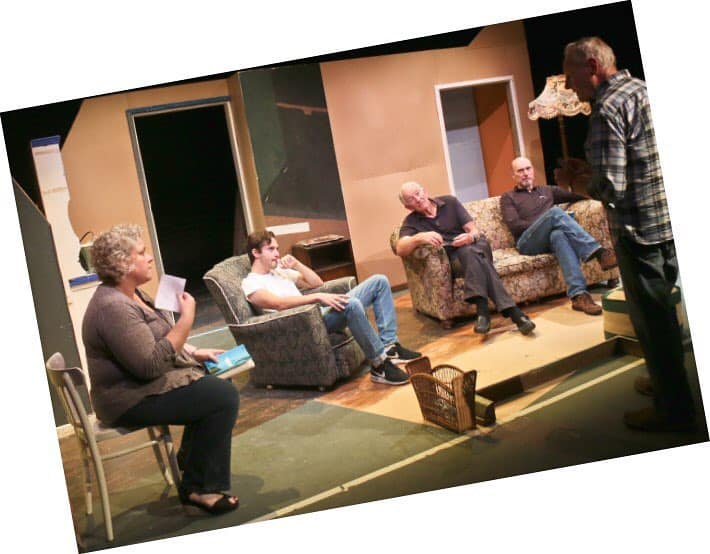 Reading & Auditions
Swan Auditions
Readings and auditions take place at the Swan Theatre.
Following a play reading, audition pieces are given out. There are usually 2 audition dates, however if you are unable to make either date you may be able to arrange an alternative with the Director. Auditions are relaxed and fun and rarely involve the learning of an audition piece, although familiarity with it and some characterisation are expected. You will be informed as soon as possible if you have been successful in securing a part, usually once the whole play is cast.
It is not Swan policy to telephone people and invite them to audition so, if you would like to be in a show, please do come along to the reading and the auditions.
The rehearsal period is approximately 8 weeks of 2-3 rehearsals per week, although this may increase over the 2 weeks and the weekend preceding performance.
'The Thrill of Love' by Amanda Whittington
Written by Amanda Whittington   Directed by Mark Payne
Production dates – Monday 18th to Saturday 23rd July 2022
Summary
Ruth Ellis works in the kind of nightclubs where there is more than just a drink on offer. The girls work hard, play hard and dream of a movie star life. Then she meets David, a racing driver with whom she becomes obsessed. Fame comes – but not in the way she imagines.
The Thrill of Love tells the true story of Ruth Ellis – the last women to be hanged in Britain. Why does their relationship end in murder? Why does she plead not guilty, but offer no defence? And who is she trying to protect?
The play reads like a Hitchcock film, stylised and atmospheric – infused with the jazz music of the period.
Reading: at the Swan on Friday 8th April at 7.30pm (The bar will be open).
Auditions: Sunday 12th April at 2.30 or Friday 17th April at 7.30.
If you want to take part, please get in touch with Mark Payne at mark.whitestop@gmail.com Do come along! If you are interested but can't make any of these reading or audition dates, please get in touch with Mark to arrange alternatives.
Characters
The Thrill of Love has a cast of 5 (ages approximate):
Ruth Ellis (20s) – described as a platinum blonde bombshell, a nightclub hostess. Clearly the central character – on stage pretty much throughout.
Jack Gale (40s) – a detective Inspector who moves in and out of the action and acts partly as a narrator. Is puzzled by Ellis's actions and seeks to find the truth.
Sylvia Shaw (40's) – a nightclub manageress. Hard but ultimately caring woman who has seen it all. Almost acts as a mother to the hostesses.
Vickie Martin (20s) a model and actress, ideally appears younger than Ruth. Determined to make it in film. Her death is central to the reasoning behind the murder.
Doris Judd (30's) a charwoman. Very caring at heart. Befriends Ruth.