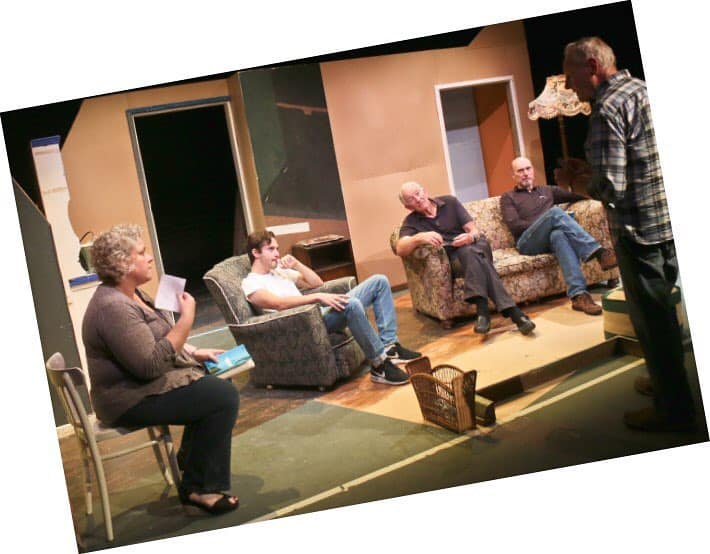 Reading & Auditions
Swan Auditions
Readings and auditions take place at the Swan Theatre.
Following a play reading, audition pieces are given out. There are usually 2 audition dates, however if you are unable to make either date you may be able to arrange an alternative with the Director. Auditions are relaxed and fun and rarely involve the learning of an audition piece, although familiarity with it and some characterisation are expected. You will be informed as soon as possible if you have been successful in securing a part, usually once the whole play is cast.
It is not Swan policy to telephone people and invite them to audition so, if you would like to be in a show, please do come along to the reading and the auditions.
The rehearsal period is approximately 8 weeks of 2-3 rehearsals per week, although this may increase over the 2 weeks and the weekend preceding performance.
Play - Season's Greetings
Written by Alan Ayckbourn
Directed by Robert Graydon
Production dates – Monday 15th to Saturday 20th November 2021
Reading: at the Swan on Friday 20th August at 7.30pm 
Auditions: Sunday 22nd August at 2.30 or Wednesday 25th August at 7.30.
With this being quite short notice and in the middle of the holiday season, please get in touch with Robert Graydon at robertgraydon@btinternet.com or call 07966 288484 if you are interested but can't make any of the above dates. Do come along!
Summary
Happy Christmas to all our readers!  
Or rather . . . 'Season's Greetings', by Alan Ayckbourn, which we are pleased to announce will be the Swan's November production. Cheating at Snakes & Ladders, fighting over comic books, a bungled infidelity beneath the tree, Christmas has arrived in the Bunker household along with family and friends. But as the children lurk just out of sight, it's the adults who are letting the side down. Presiding over the festivities are two warring uncles, one a kindly, incompetent doctor with an interminable puppet show to perform; the other a bullying retired security guard who dominates the TV, brings toy guns for his nieces and determines there is a thief in their midst.
A very funny play, perfect in the run up to the festive season, 'Season's Greetings' offers a seriously entertaining look at the misery and high jinks of an average family at Christmas! There are 9 parts (4F, 5M); ages are relatively flexible.